One of the most popular posts on The Daily Dish is my recipe for Saturday Morning Pancakes. Low-sodium, simple and tasty, they're the perfect anytime treat. So when my husband and I went vegan 3 years ago, my pancake recipe was one of the very first I adapted. No eggs, no dairy, no problem! By my calculation, I've made these pancakes roughly 200 times since. That's quite a stack! And all this flipping has led to some delicious discoveries.
1) Vegan pancakes are even lower in sodium than their conventional counterparts and because they're dairy and egg-free, they're also cholesterol-free! But the taste and texture? ALL THERE. If you do not disclose these are vegan, no one will ever know. Trust me, I've tried this. (Gotcha!) Light, fluffy, dreamy, steamy, and deliciously delicious fun.
2) Not all nonondairy milks are the same, though most are close. I've tried soy, almond, and rice milks with this recipe, and without fail all of them produced good results. But my favorite? Rice milk. There's something about its lightness that makes the gluten in the batter even better. I swear it looks almost stringy when you ladle it out, and the pancakes are as fluffy as clouds. Try it and see!
3) This recipe works wonderfully with a number of flours. Whole wheat, white whole wheat, and standard white flours all produce excellent pancakes with varying densities. I sometimes substitute 1/3 cup of ground flaxseed for an equal amount of flour in the recipe for irresistibly speckled, high-fiber, omega-3 rich pancakes. Great gluten-free pancakes can be made just by substituting your favorite GF flour/blend for the wheat. If you don't have any on hand, just measure oats into a food processor and pulse until fine.
4) If you are watching your fat, skip the oil altogether. I've done this several times, unintentionally (simply forgotten to add the oil), and the pancakes are still super tasty. You can also swap the oil for either applesauce or mashed banana. The nutrition facts below reflect the recipe made without oil; 2 T. oil adds 7 g fat per serving.
5) If you don't have ground flaxseed, don't let it discourage you. I've made this recipe as many times with the flax as without and the pancakes didn't miss it.
6) Why mess around (emphasis on mess) with pouring batter from a bowl? Ladles make perfect pancakes. Same size, same shape, same cooking time. No drips to clean up. Love at first ladle.
7) Pancakes for dinner, always a winner.
Yields 4 servings.
SODIUM CONTENT: 31 mg per serving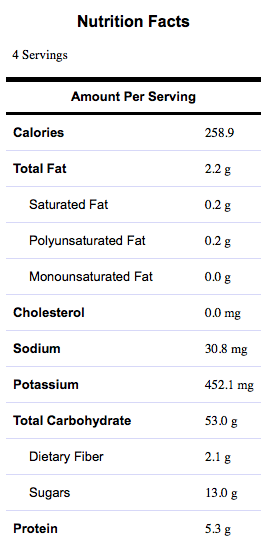 INGREDIENTS
1 1/3 c. flour
1/4 c. sugar
2 T. ground flax seed
1 T. sodium-free baking powder
6 T. water
1 T. pure vanilla extract
2 T. canola oil (optional)
1 1/3 c. nondairy milk
DIRECTIONS
Heat a nonstick skillet over medium-low heat.
Measure the flour, sugar, ground flax seed, and baking powder into a mixing bowl and whisk well to combine. Add the remaining ingredients and beat until smooth.
Drop a few droplets of water onto the pan; if the water sizzles, it's ready. Ladle out a spoonful of batter onto the skillet. When the top of the pancake shows bubbles, flip over to brown on the second side (roughly 3 minutes per side). If the pancakes are browning too quickly, reduce heat to low and/or reduce cooking time.
Remove pancake from skillet and repeat process with remaining batter. Serve pancakes immediately or place on plate to warm in oven (set to ~200 degrees).