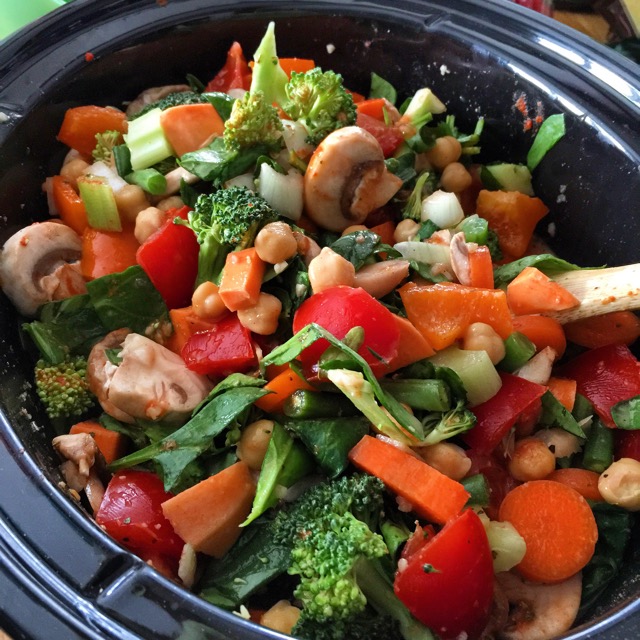 Good morning, salt-free friends!  Hope you all enjoyed a lovely Valentine's Day!  To make up for last weekend's indulgence, here's a super healthy, ooh-so-easy, slow-cooker meal that'll make you say WOW.
I created this last week on a whim, combining the icy cold weather outside with an indoor desire to be lazy.  I used the veggies we had on hand, adding a can of light coconut milk, some Thai red curry paste, lime juice, and assorted seasonings.  As you can see from the photo above, it's gorgeous – like eating a rainbow! – but it's the taste that's truly fantastic.  All-day simmering transforms the hearty salad into a softened stew of veggies, bathed in a light, spicy, citrusy coconut broth.  The heavenly aroma alone is intoxicating.
Thai red curry paste is a concoction of chili pepper, garlic, lemongrass, ginger, lime, shallot and spices pounded together into a thick paste.  It's spectacular stuff, but unfortunately all the commercial brands I've found contain salt.  World Foods Thai Red Curry Paste is the lowest-sodium brand available, with a mere 140 mg per tablespoon.  Sue Tweeton of Please, DON'T Pass the Salt clued me into it several years ago; she lives in California and buys it locally, but I've only found it online.  Thai Kitchen Red Curry Paste, with 390 mg sodium per tablespoon, is higher in sodium, but it's sold in supermarkets near and far.  So it's a trade-off.  If you're watching your sodium very strictly and can only find a higher-sodium brand, try 1 tablespoon of Thai red curry paste instead of 2.
This recipe lends itself well to adaptation.  Vary the veggies according to what's in season or what you have on hand.  Instead of fresh tomatoes, substitute a 15-ounce can of salt-free diced tomatoes with juice. Use cauliflower instead of broccoli, regular potatoes instead of sweet, snap peas instead of green beans, etc.  Add baked tofu for added protein, or cooked meat if you're a carnivore.  For even more flavor, swap the water for low-sodium vegetable broth, tomato or vegetable juice.  And to make it a truly filling main meal, ladle the curry over cooked rice, quinoa, or baked potatoes.  However you dish it, it's absolutely delicious.
Yields 8 servings
SODIUM CONTENT: 245 mg per serving
INGREDIENTS
3 fresh tomatoes, chopped (or 1 15-ounce can no-salt-added diced tomatoes, with juice)
8 ounces sliced mushrooms
1 small/med head broccoli, chopped
1 medium onion, diced
1 medium sweet potato, diced
1 orange or red sweet bell pepper, diced
2 medium carrots, sliced
1 medium celery stalk, sliced
2 c. baby spinach, chopped
1 c. fresh green beans, trimmed
3 cloves garlic, minced
1 15-ounce can no-salt-added garbanzo beans
1 14-ounce can light coconut milk
2 c. water
2 T. Thai red curry paste
2 T. low-sodium soy sauce
2 T. lime juice
1 T. agave nectar
2 t. all-purpose salt-free seasoning
1 t. garam masala
1 t. ground coriander
1/2 t. ground cumin
freshly ground black pepper, to taste
DIRECTIONS
Place all ingredients into a large slow cooker and stir well to combine. Cover, set to high, and cook, stirring occasionally, 5-6 hours.
Serve hot, ladled over cooked rice, quinoa, or baked potatoes.