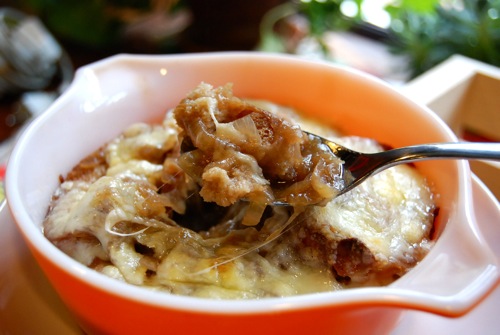 Today we are tackling perhaps the most divine of all onion dishes. French Onion Soup. I do not claim to be an expert in either cooking or consumption of such, but as my husband is a BIG FAN! (all caps) I figured what the heck. Besides, all this week Fine Cooking is showcasing soup soup & more soup and after their big soup "tweet up" yesterday on Twitter, I was feeling particularly inspired. And hungry. Very very hungry. This is my low sodium take on their classic French Onion Soup. I've eliminated the salt (of course!) and substituted sliced Swiss cheese for the aged Gruyère. If you have the opportunity to make beef stock from scratch, I highly recommend doing so. The simplicity of French Onion Soup truly showcases the richness of the broth, so use the very best you can. Since I was pressed for time, I opted for Kitchen Basics Unsalted Beef Stock, in my opinion the tastiest salt-free stock available. The one thing I didn't skimp on?  BREAD. That's right; I used a real French baguette. I KNOW! I know! It's salted. But sometimes, once in a while, you just need to go WILD. This soup, even with the bread, is still low enough in sodium to be enjoyed without guilt. But for an ever lower sodium meal, substitute your favorite salt free bread for the baguette.  Then go ahead and savor each melty, heavenly bite.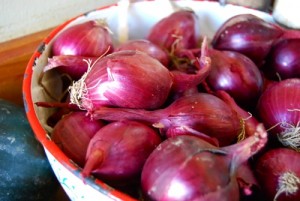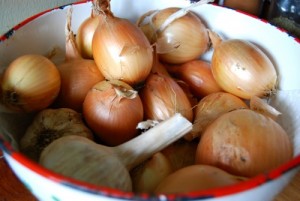 Yields 8 servings.
SODIUM CONTENT:  309 mg per serving
INGREDIENTS:
4 T. (1/2 stick) unsalted butter, more for the baking sheet
4 med/lg red or yellow onions, thinly sliced (to yield 8 c.)
freshly ground black pepper to taste
1 tsp. sugar
1 small French baguette, cut into 1/2-inch slices (4 oz.)
8 c. unsalted beef stock
1 bay leaf
8 slices low sodium Swiss cheese
DIRECTIONS:
Melt the butter in a medium stockpot over medium heat. Stir in the onions and season to taste with freshly ground black pepper. Reduce the heat to low.
Press a piece of foil onto the onions to cover them completely, cover the pot with a lid, and cook, stirring occasionally (you will have to lift the foil), until the onions are very soft but not falling apart, 40 to 50 minutes. Remove the lid and foil, raise the heat to medium high, and stir in the sugar. Cook, stirring often, until onions are very deeply browned, 10 to 15 minutes.
Meanwhile, to make the baguette toasts, preheat oven to 350 degrees. Butter a rimmed baking sheet and arrange the slices on the sheet in a single layer.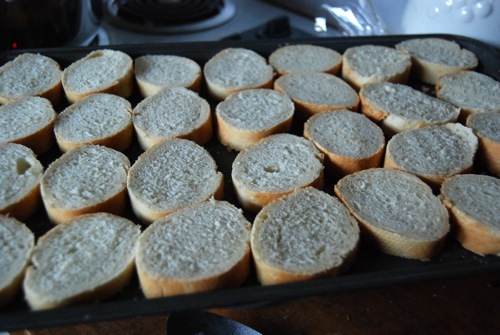 Place sheet on the middle rack in oven and bake until bread is crisp and lightly browned, turning once, 15 to 20 minutes. Set aside.
Add the broth and bay leaf to the caramelized onions and bring to a boil over medium-high heat. Reduce the heat to medium low and simmer for 10 minutes. Discard the bay leaf and season to taste with freshly ground black pepper.
To serve, position oven rack 6 inches from the broiler and heat the broiler to high. Place 8 ovenproof soup bowls on a baking sheet. Arrange bread slices in the bottom of each bowl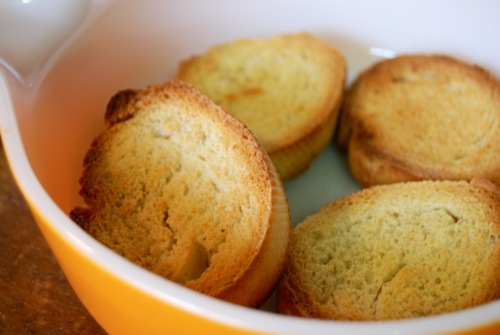 and ladle the hot soup on top.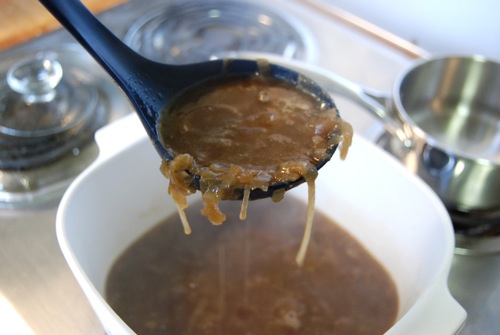 Top each bowl with a slice of Swiss cheese.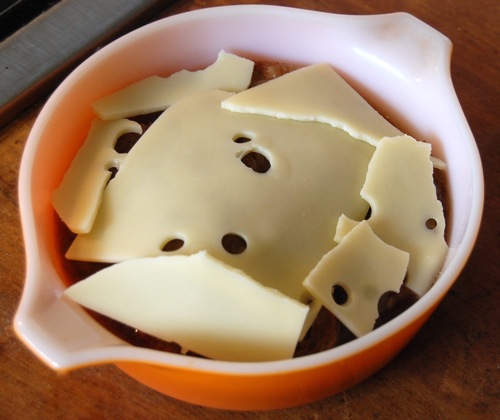 Place soup under broiler and broil until the top is browned and bubbly, 2 to 5 minutes. Serve immediately.