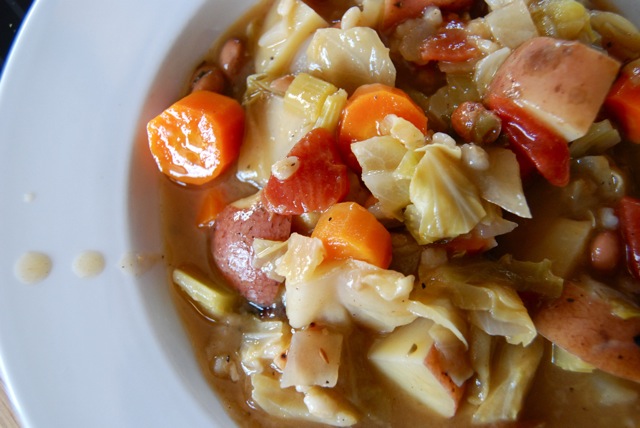 Good morning! Hope you all had a terrific weekend. I've got a really full plate today (pun intended) so let's dig in.
I thought a nod to Saint Patty's Day would be appropriate this week, so for today's Meatless Monday main I decided to go Irish. This delicious slow-cooked stew is even better than corned beef and is so filling and hearty, you'll be able to pound green beer with the best of them. I found the recipe on FatFreeVegan.com, an amazing website run by Susan Voisin. Susan's inspiring personal story (she lost over 100 pounds going vegan!) will impress, but it's her artistry with food that truly captivates. Superb photography and absolutely stellar recipes, all without animal products or added fat, FatFreeVegan.com is a site to savor.
This stew is simple, inexpensive, supremely healthy and – most importantly – it's delicious. Because your slow cooker does all the work (save for chopping) it's a terrific dish for a busy day. Like today! I used Imagine Foods Organic Low-Sodium Vegetable Broth. It's got such a fresh taste, not to mention beautiful color, at only 140 mg sodium per cup. The original recipe calls for white (great northern) beans; I substituted pinto because I adore the flavor, but you can use whichever you like. I wish I had fresh parsley for garnish, the bright flavor would be the perfect finishing touch, but as I said today's already jam-packed. If you have some on hand, don't skimp!
Adapted from Irish White Bean and Cabbage Stew by Susan Voisin.
Serves 8.
SODIUM CONTENT: 159 mg per serving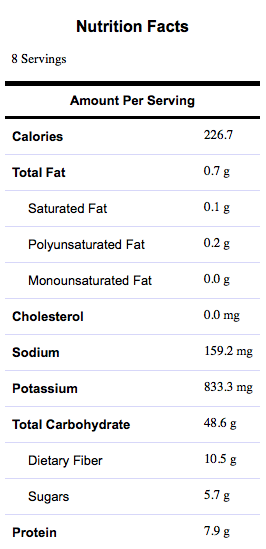 INGREDIENTS
1 medium onion, chopped
2 medium stalks celery, chopped
3 cloves garlic, minced
1/2 head cabbage, chopped
3 medium carrots, sliced
1 lb. red potatoes, scrubbed & cut into large dice
1/3 c. pearled barley, rinsed
1 bay leaf
1 t. dried thyme
1/2 t. caraway seeds
1/2 t. dried rosemary, crushed
1/2 t. freshly ground black pepper
6 c. low-sodium vegetable broth
1- 15-oz. can no-salt-added beans (your choice), drained and rinsed
1- 15-oz. can no-salt-added diced tomatoes, with juice
2 T. chopped fresh parsley (optional)
DIRECTIONS
Get out a large slow cooker, at least 5 quart capacity.
Prep vegetables and place into the slow cooker. Add the seasonings and barley and stir. (It may be a bit awkward, the cooker will be full.) Add 6 cups vegetable broth. Cover cooker and set to low. Cook 6 hours.
Add beans & tomatoes, then cover and cook for another hour (or two, depending on your time).
Ladle into bowls and serve, sprinkled with fresh parsley, if desired.