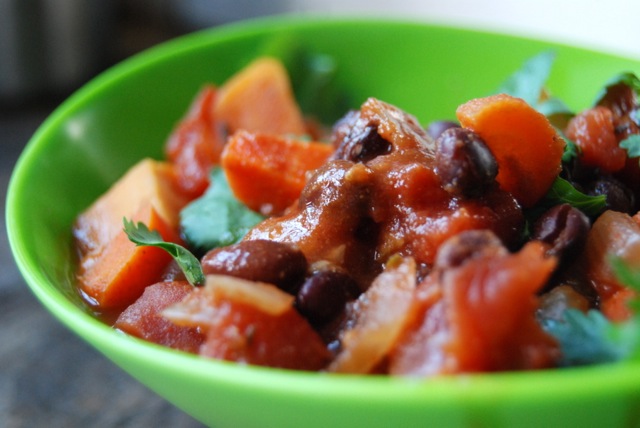 Happy Tuesday, everyone! Forgive me for missing yesterday's "Meatless Monday," but now that every day is meatless round these parts, it can be hard to remember. Besides, yesterday I was up to my eyeballs in boxer shorts. That's right, boxer shorts! After 9 months of veganism, my husband has lost a whopping 15 pounds! He happily eats like a horse, but the pounds – as Paul Simon says, slip-sliding away! So this weekend, my husband culled his wardrobe. Call it the vegan equivalent of hunting, his castoff clothing filled 6 trash bags. If I hadn't schlepped it all to Goodwill yesterday, even our dog would be wearing boxers, and she's a Rottie, for pete's sake!
Anyway, onto the recipe! And what a recipe.. Ooooh, if you like chili, you are going to LOVE THIS. Hot, filling, supremely satisfying, not to mention absolutely delicious, unbelievably flavorful, almost work-free (thank you, slow cooker), fat-free, cholesterol-free, low-sodium, AND vegan too! Subtly sweet, spicy – yet not overpoweringly hot, it truly is the best of all chili worlds.
As in last week's Slow Cooker Minestrone, I used V8 Low Sodium Vegetable Juice here instead of broth, but you can of course substitute your choice of stock, or even water if you'd prefer. This chili makes a terrific meal on its own, or if the mood strikes, use as a filling for fabulous low-sodium tacos or burritos. Spoon over steamed rice, quinoa, couscous, or other whole grain. Use as a sauce for your favorite pasta. Top hot baked potatoes, broccoli, or other veg. Drizzle over a platter of salt-free tortilla chips for guilt-free nachos. Or, do like I did last night, and pair with a simple cilantro-lime brown rice and sliced ripe avocado. Talk about AMAZING.
Serves 8.
SODIUM CONTENT: 87 mg per serving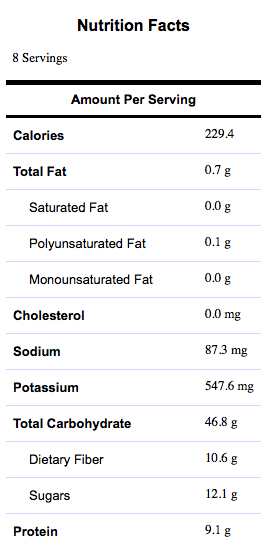 INGREDIENTS
1 large onion, diced
2 large sweet potatoes, peeled and diced
2 medium carrots, diced
2 medium stalks celery, diced
6 cloves garlic, minced
2-15-oz. cans no-salt-added black beans, drained and rinsed
2-15-oz. cans no-salt-added diced tomatoes, with juice
6 T. no-salt-added tomato paste
2 c. low-sodium vegetable juice
1/4 c. red wine
2 T. agave nectar
2 T. ground cumin
2 t. dried oregano
1 1/2 t. ground coriander
1 t. ground chili powder
1/2 t. dried thyme
1/2 t. ground cinnamon
freshly ground black pepper to taste
DIRECTIONS
Place all ingredients into a slow cooker and stir well. Cover, set to high, and cook 6 hours, stirring occasionally. Serve hot.