Whenever I share a recipe, I tend to stick to a format. A photo or two of the completed dish, nutrition information, ingredients, directions. But today's post is a little different. For the first time in Daily Dish history, I'm sharing a NAKED recipe!
I hate to disappoint. If you were hoping for breasts and thighs, I'm sorry, but I'm vegan.
LOL
Last week I mentioned having spent much of December fighting a terrible respiratory plague. Well apparently when I made this soup – mere days before becoming bed-ridden, the foggy malaise must have already descended because for the life of me I cannot find a single photograph of this recipe. I've gone through my entire digital archive, twice, and can't find so much as a semi-blurry, badly lit, anything even remotely resembling minestrone.. so this "naked" version will have to suffice.
Imagine hearty chunks of potato, carrot, celery, garlic and onion. Soft diced tomato, toothsome pasta, and beans. A richly fragrant, highly flavorful vegan broth, each spoonful sending you smacking your lips and returning for more.
Speaking of broth, did you know you can make a really delicious low-sodium broth out of: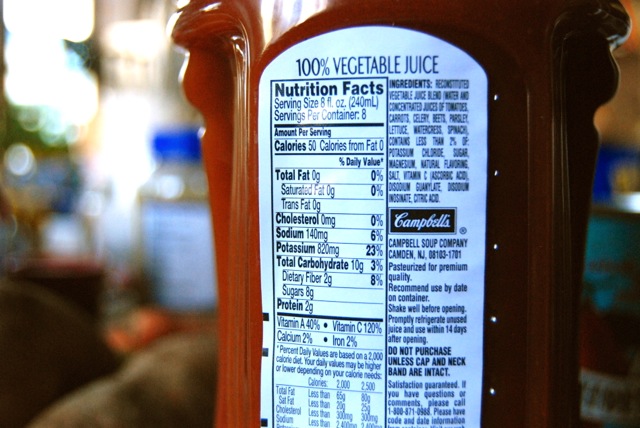 V8 Low Sodium 100% Vegetable Juice? You can! To be honest, I've always equated vegetable or tomato juice strictly with Bloody Marys – a drink I'm not terribly fond of because 1) they tend to be super high in sodium, and 2) I have children and drinking at breakfast tends to put mommy in bed for the afternoon. Anyway, I found this product at BJs Warehouse. I'd been slogging down the juice aisle, pushing our 300 lb. cart when the bright green LOW SODIUM lettering caught my eye. WOW! I decided to give it a whirl. The rest, my friends, is history.
NOTE: Because the V8 Low Sodium Vegetable Juice is so highly flavorful, I was able to stretch the broth further (as well as reduce the amount of sodium per serving) by adding water to it. In this case, for every 1 cup of juice I added a 1/2 cup water. If you're not interested in using low sodium vegetable juice, either because you can't find it or you are watching your potassium and don't want to use a product with potassium chloride, please feel free to substitute an equal amount of low sodium broth. Either way, this soup is DELISH!
Adapted from The Whole Foods Allergy Cookbook.
Serves 8
SODIUM CONTENT: 122 mg per serving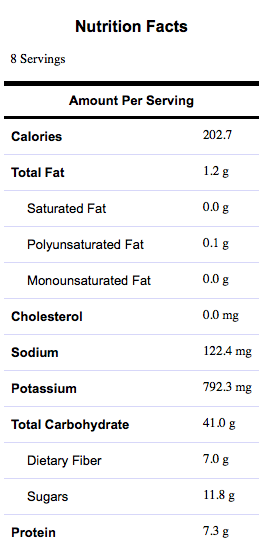 INGREDIENTS
1 large onion, chopped
2 T. minced garlic
3 medium carrots, halved and sliced
3 medium stalks celery, sliced
2 medium potatoes, diced
2-15-oz. cans no-salt-added diced tomatoes (with juice)
1-15-oz. can no-salt-added chickpeas, drained and rinsed
1 c. short/small pasta (your choice)
4 c. low-sodium vegetable juice
2 c. water
2 T. red wine
1 T. agave nectar
1 T. balsamic vinegar
1 T. salt-free all-purpose seasoning
2 bay leaves
2 t. dried oregano
1 t. dried basil
freshly ground black pepper to taste
DIRECTIONS
Place ingredients (except pasta) into a slow cooker. Stir, cover, and set to high. Cook on high 6 hours, adding pasta around the 4th-5th hour (depending upon size). Stir occasionally. Serve hot.