Benson's Gourmet Seasonings is a family business based in California. They make nine superb salt free blends, but what they're best known for is their unparalleled Table Tasty.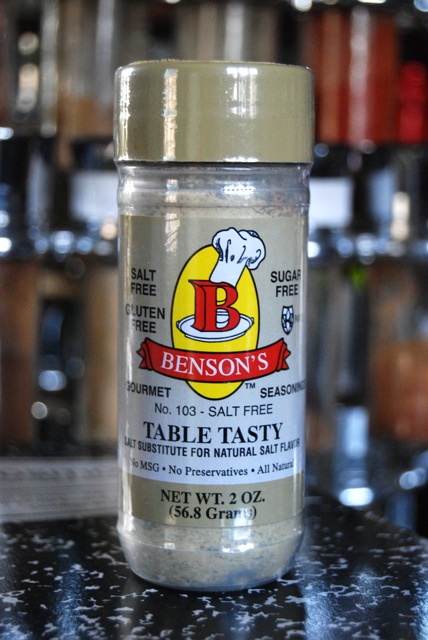 Table Tasty is a natural, all-purpose seasoning intended to replace salt.  Unlike other salt substitutes, Table Tasty contains NO potassium, MSG, additives or chemicals. It's completely salt free, sugar free, and gluten free, too.
What Table Tasty *is* is a unique blend of 13 different vegetables, herbs, and spices, including nutritional yeast.  These ingredients come together in an almost magical union, producing an unparalleled level of flavor.  Translation: 
Table Tasty is the one and ONLY salt-free blend with a naturally SALTY taste. 
When I first reviewed Table Tasty (click HERE to read), I was absolutely blown away by the flavor.  I checked the label several times, just to make sure there really wasn't any actual SALT in the seasoning.  My daughters and I devoured that first sample on a batch of plain popcorn and we couldn't get enough.  Table Tasty is just SO GOOD.
Over the years I've reviewed many other salt-free seasoning blends, all of them excellent.  But none of them, none, has the same unique flavor as Table Tasty.  It's simply without peer.  Whether you're on a low sodium diet or not, Table Tasty is your new best friend.  Keep it on your table and use it liberally.  With zero mg sodium per serving you can't go wrong.  You'll be amazed by the level of flavor, and may indeed find yourself doing just as I did – checking and double-checking to make sure there's no actual salt in it!  PS: There's not!
If you've never had the pleasure of sampling Benson's Table Tasty, here's your lucky chance.  Already a devoted fan?  Terrific!  From now through Sunday, April 8th, enter to win a free full-size bottle of the seasoning, simply by leaving a comment below.  The winner will be drawn randomly and announced first thing Monday morning.
NOTE: This contest is open to all Daily Dish readers (no residency restrictions).
Many thanks to the lovely Debbie Benson for her generous support!