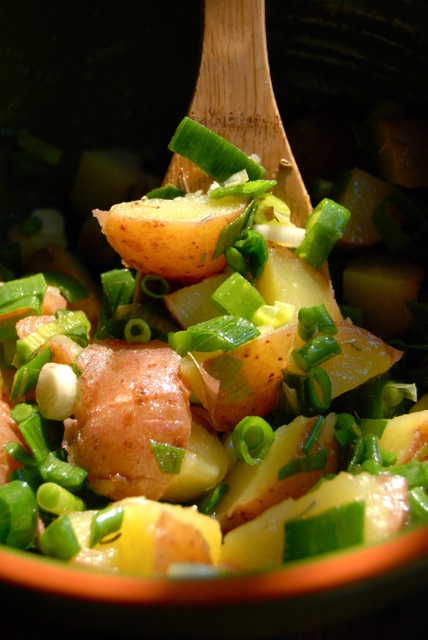 Last night I stayed up until 1 am, something I rarely do, simply waiting for a break in the heat. When I finally let the dog out for the last time, the sky was a blackened haze, the moon dyed red in oppression. In bed we slept half naked without sheets and still we sweated. YES I realize I'm being dramatic, but this is truly the hottest weather we've endured since moving to Maine, and it's made my family feel like we never left Philly. There, summer stretched endlessly, each day seemingly more humid and unbearable than the last. An armpit of a place. (No offense.) But here??
Cold salads are sustaining us in these trying times.  This toothsome concoction of potatoes, scallion and garlic is hefty enough to be filling, yet light enough to refresh.  The real showstopper in this recipe?  Garlic scapes.  When I first encountered these curly tendrils several years ago, I didn't know what to make of them.  They looked unfamiliar and slightly suspect – like something I'd have tossed without reservation into the compost.  But they were indeed a part of our CSA delivery and remained so for a period of weeks.  After a few tries, I was hooked.  Garlic scapes are milder in flavor than their cloved counterparts.  They can be minced finely, or sliced more like green beans.  Eaten raw.  Sauteed.  Everything in between.  They're terrific.  If you've never seen or used them before, here's the perfect excuse to head to a farmer's market tomorrow and pick some up.  (PS: My current CSA, Fishbowl Farm, is selling them 10 for $1.  TEN for ONE DOLLAR.  If that's not the best buy ever, I don't know what is!)  No scapes to come by?  No worries; simply substitute regular garlic and enjoy!   Happy Weekend.
Adapted from Simply in Season.
Yields 6 servings.
SODIUM CONTENT:  9 mg per serving
INGREDIENTS:
6 medium potatoes (whichever type you like best)
6 garlic scapes, sliced (or 3 cloves garlic, minced)
1 c. scallions, thinly sliced (green and white portions)
1/4 c. olive oil
2 T. white balsamic or rice wine vinegar (unflavored, plain)
2 t. fresh rosemary, chopped (or 1 t. dried rosemary)
freshly ground black pepper to taste
DIRECTIONS:
Put the potatoes into a pot and add enough water to cover by an inch. Place over high heat and bring to a boil. Boil until fork tender but still solid, depending upon size, roughly 20-25 minutes. ( I recommend keeping watch and testing as the time approaches.)
Once cooked, remove from heat and place under cold water. Drain and set potatoes aside to cool. Once cool enough to handle, cut into cubes. Place cubed potato, along with the garlic scapes and scallion, into a mixing bowl and toss to combine.
Measure the olive oil, vinegar and rosemary into a small mixing bowl. Add freshly ground black pepper to taste; whisk well to combine. Pour the dressing over the salad and stir gently to coat. Cover and refrigerate a few hours before serving.