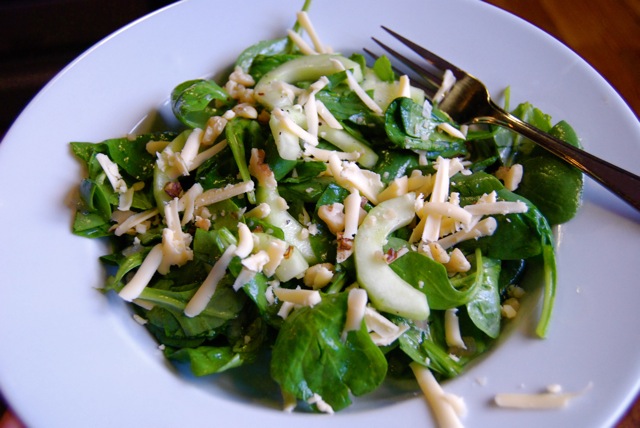 My husband & I are in the process of cleaning out our attic. Attics tend to be places full of things you don't want to part with, yet rarely use, and in our case this includes countless boxes of cookbooks. Yes, I am a long-time cookbook collector and back before we left Philly, this collection culminated in a one-time SUPER SCORE of ten whole BOXES of cookbooks!!  Although the move forced me to thin the ranks greatly, I've kept hold of dozens.  But increasingly I find myself storing them away in favor of the internet.  Googling an ingredient and finding a world of recipes is just so efficient and worlds easier than thumbing through box after box of dusty old cookbooks.  Though, truth be told, there's something I love about that too.
Anyway, today's Eating Well recipe came to me via Twitter.  The jury's still out on how I feel about Twitter but I sure do love spinach, especially in warm salads, and the two words MAPLE SYRUP bring stars to my eyes.  So when the recipe popped up last week I said OH YEAH and printed it out in a flash.  I made this last night for dinner.  It was easy, fast, and absolutely delicious.  The warmth of the dressing serves to semi-wilt the spinach, so if you're someone like me and actually prefer cooked spinach to raw – it's a best of both worlds scenario.  The vinaigrette, a combination of sauteed shallot, cider vinegar, the aforementioned syrup, olive oil and black pepper, sounds deceptively simple but the level of flavor is out of this world.  Next to no sodium and SO good.  We happen to have a block of smoked Gouda (the hubs is a BIG FAN) but if you'd like to reduce the sodium further, simply opt for shredded Swiss cheese or eliminate it altogether.  If you've never seeded a cucumber, first peel, then cut lengthwise into two halves.  Use a spoon to gently scrape down the middle and remove seeds until clean.
Yields 4 servings.
SODIUM CONTENT: 183 mg per serving
INGREDIENTS:
2 T. chopped pecans or walnuts
1 10-oz. pkg. fresh baby spinach (about 12 c.)
1 cucumber, peeled, seeded and cut into 1/4-inch slices
2 t. olive oil
1 shallot, finely chopped
1/4 c. cider vinegar
2 T. pure maple syrup
freshly ground pepper, to taste
1/4 c. shredded smoked cheese, such as Gouda or Cheddar
DIRECTIONS:
Toast the chopped nuts in a small dry skillet over low heat, stirring often, 2-3 minutes. Remove from heat, transfer to a small bowl and set aside.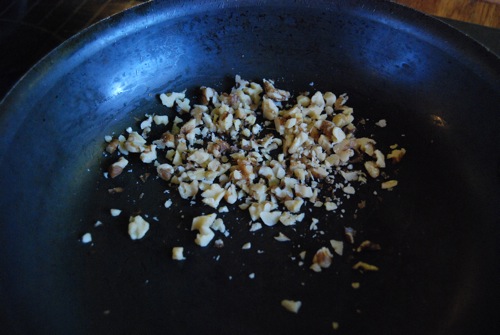 Toss spinach and cucumber in a large bowl.
Heat oil in a small skillet over medium-low heat. Add shallot and cook, stirring, until softened, about 4 minutes. Add vinegar and maple syrup and bring to a boil. Season with freshly ground black pepper to taste.  Immediately pour the dressing over the spinach and cucumber. Toss well and sprinkle with cheese and toasted pecans.