There's something very decadent about sticky glazed chicken wings. It's partly the way they're consumed, meat in hand, primitive bone sucking and audible moaning allowed.  And how even after they're finished, their memory remains in tangible form, and sticky fingers must be licked once more.  It's the satisfying indulgence of consuming caramelized, coated and crispy skin, and leaving a plate of naked bones behind.  Face it.  Chicken wings are party food.  So what better way to enjoy today's Fat Tuesday Mardi Gras celebration than by whipping up a batch of wings, popping open an ice cold beer and digging in?  Adapted from Food Network Kitchens Favorite Recipes, this low sodium version takes advantage of another wonderful low-so product that may be new to some: Bragg Liquid Aminos.
Although it's still pretty high in sodium (160 mg per 1/2 teaspoon) when used in small quantities, such as in today's dish, Bragg Liquid Aminos makes a terrific all-natural substitute for soy sauce and packs a huge flavor punch.  Sold nationwide at health food stores, natural markets and in many large traditional supermarkets too, it's worth buying for this recipe alone, but also makes a great addition to so many things and will last for ages.  (Many thanks to my cousin Tammy for reminding me to pick up a bottle last week!) These chicken wings are some seriously sensational indulgence. Coated with the thick syrupy sauce, they emerge from the oven a glossy reddish black, the skin crisp and spicy and lip smackingly sticky. You will LOVE them! As Cajun chef Justin Wilson used to say, "I guaranTEE."
Yields 6 servings.
SODIUM CONTENT:  236 mg per serving
INGREDIENTS
3 lbs. chicken wings (wing tips removed)
1/2 c. red currant jelly
1/3 c. balsamic vinegar
1 t. Bragg Liquid Aminos
1 t. ground cayenne pepper
1 t. garlic powder
1 t. onion powder
DIRECTIONS
Preheat oven to 450 degrees. Line a baking sheet with aluminum foil and set aside.
Wash the chicken wings and pat dry. Remove wing tips if present by cutting at joint, as in photos below.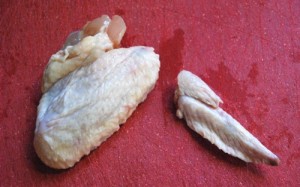 Place wings into a large mixing bowl and set aside.  Save wing tips for stock or discard.
Measure the jelly, balsamic vinegar and Bragg Liquid Aminos into a small saucepan. Place pan over medium-high heat and bring to a boil, stirring occasionally. Boil 5-7 minutes until mixture turns thick and glossy.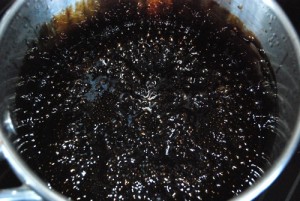 While mixture is boiling, measure the cayenne, garlic and onion powders into a small mixing bowl. Whisk well to combine.
Once mixture has thickened on stove top, remove from heat and whisk in the seasonings. Pour mixture over the chicken wings and toss well to coat.
Once wings are coated thoroughly, arrange the chicken on the baking sheet, meaty side DOWN.
Return the sauce to the small saucepan and set aside. Place baking sheet on middle rack in oven and bake 10-12 minutes (less time for small wings, longer for larger ones).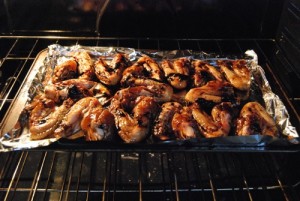 Remove sheet from oven and turn wings over.
Return to oven and bake another 10-12 minutes. Towards the end of the chicken's cooking time, place the small saucepan of sauce over medium-high heat and bring to a boil. Reduce heat to low and simmer a couple minutes.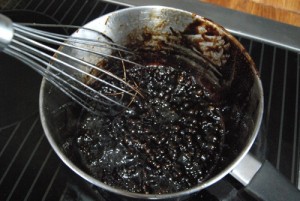 At the end of the baking time, turn on the broiler and broil the chicken for 3-4 minutes more, until chicken is richly colored and glossy.  Remove from oven and drizzle the remaining sauce over top of the wings. Serve immediately.