Hope you all had a lovely St. Patty's Day.  Now that the shamrock green festivities are over, you might be wondering what to do with the potatoes and kale left over from making Colcannon.  Never fear!  Today's salt free side dish to the rescue.  Adapted from Farmhouse Cookbook, this is an absolutely delicious, supremely healthy way to ensure nothing goes to waste.  And if you have any remaining Irish Soda Bread, toast and serve alongside for dipping into the spicy, garlicky oil.  MMM-MMMmmm!!
Yields 6 servings.
SODIUM CONTENT:  25 mg per serving
INGREDIENTS:
4 large Russet potatoes, peeled and cut into eights
1 large bunch kale, tough stems removed, rinsed and coarsely chopped (about 15 oz.)
6 T. olive oil
4 cloves garlic, peeled and thinly sliced crosswise
1/2 t. dried red pepper flakes
DIRECTIONS: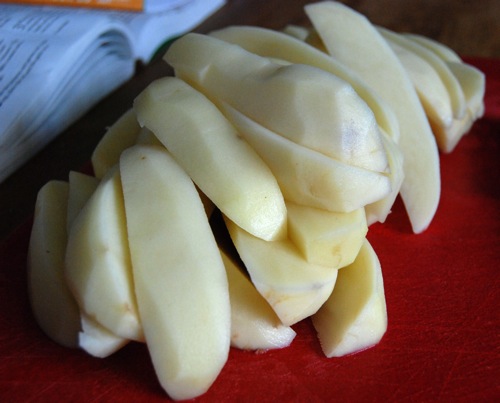 Place the potatoes into a large stockpot and add just enough water to cover. Bring to a boil over high heat. Once boiling, lower the heat to medium, partially cover the pot with lid, and continue cooking until potatoes are tender firm, about 12 minutes. Add the kale.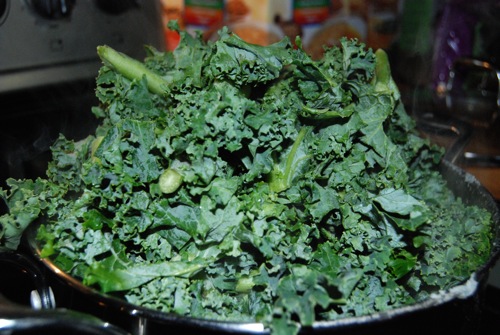 Cover the pot completely and cook, stirring occasionally, until kale has wilted and turned dark green, 10-15 minutes.
While the vegetables are cooking, heat the oil in a pan over medium-low. Add the garlic and cook until it turns a very pale gold, 10-15 minutes.  Remove from heat and stir in the red pepper flakes. Set aside.
Once the veggies are cooked, remove from heat and drain any excess water. Transfer to a serving dish, then pour the spicy garlic oil over top. Serve immediately.