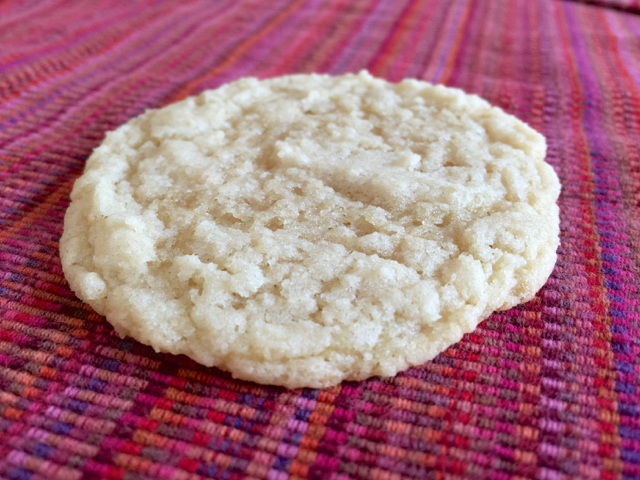 Were you looking for a mouthful?  I hope so.  Because it's been 2 months without a word from me and I feel you deserve more than a morsel.
So have a cookie.  In fact, take two.  They're cholesterol-free after all.  Crisp, buttery, yet completely butter-free, these deliciously simple and simple-to-make cookies shine with bright citrus flavor.  If you don't have fresh lemons on hand, just substitute a 1/2 cup of bottled lemon juice.  Want to up the ante further?  Add a little lemon extract.  Or swap out the lemons for limes, oranges, or even a grapefruit.  Feeling crazy?  Try some of each.
No need to prep anything.  No need for parchment.  Just measure all the pantry staples into a bowl, mix by hand, scoop, and bake.  Use a small cookie scoop if you have it, but you don't even need that.  The stiff dough ends up spreading into thin rounds, so leave an inch or two between the cookies.  That's it.  In 10 minutes, you'll be eating sodium-free cookies to your heart's content (pun intended).
Adapted from Food.com and soon-to-be published in the upcoming DASH Diet 30-Minute Cookbook.
Yields 3 dozen
SODIUM CONTENT:  0 mg per cookie
NUTRITION FACTS:


INGREDIENTS
2½ c. flour
1½ c. sugar
1 T. sodium-free baking powder
¾ c. canola oil
Juice and grated zest of 2 large lemons
1 T. pure vanilla extract
DIRECTIONS
Preheat oven to 350 degrees.
Measure the flour, sugar, and baking powder into a mixing bowl and whisk well to combine. Add the remaining ingredients and stir to form a stiff dough.
Drop by rounded tablespoons onto an ungreased baking sheet. Place sheet on middle rack in oven and bake 10 minutes.
Remove from oven and let cool on sheet for a few minutes before transferring to a wire rack to cool fully.
Serve immediately or store in an airtight container.