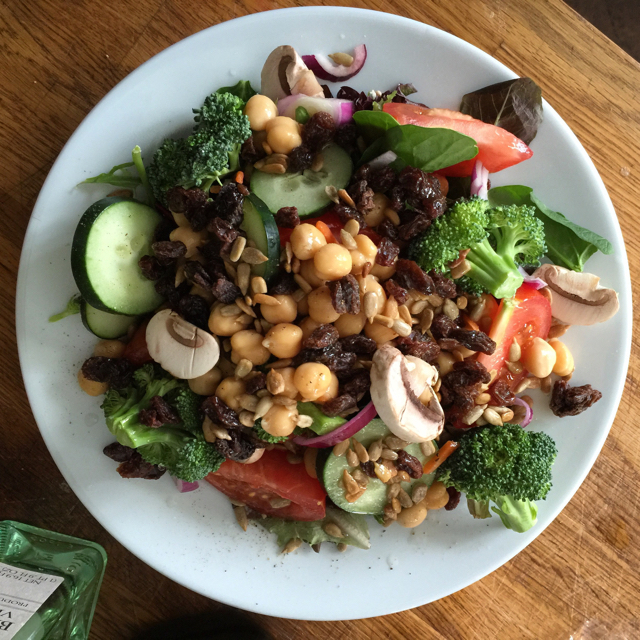 I'm finishing the final edits for the DASH Diet 30-Minute Cookbook this week. And despite it being a cookbook, I've been spending most of my time not in the kitchen, but on the computer. So much time, in fact, that on several recent occasions, my family has chosen to (rather than starve) take me out to dinner! YAY!
But as anyone on a low-sodium diet knows, dining out can be difficult, and when coupled with veganism, it's a real two-fer whammy. No fear! A local restaurant has a decent salad bar that makes dining out a treat. After three recent visits, I've become hooked. It's nuts how the more raw veggies I eat, the more I really CRAVE them – far more than the "good" (read: bad for me) stuff.
Hence today's recipe. More of a suggestion than a THOU SHALT FOLLOW instruction, my favorite ingredients are listed below. But just put whatever you like into YOUR salad. That's what makes it yours! The whole "salad bar" concept engages and enlivens mealtime. My daughters, the "tater tot twins," can't get enough raw fresh veggies when they're presented in a dazzling array of little bowls, with tongs, and they get to choose and help themselves. Even though I'm the one prepping everything, it feels less like work and more like fun for me too.
You can make one of the dressings from the Recipe Index, or do like I do. Drizzle your salad with a little olive oil and white balsamic vinegar (my favorite), then top with freshly ground black pepper. So good, and oh-so-easy. And sodium FREE. win.
Yields 4 servings
SODIUM CONTENT: 34 mg per serving
INGREDIENTS
1 10-ounce bag salad greens or equivalent head lettuce (I like spring mix + baby spinach)
1 ripe tomato, sliced into thin wedges
1 medium cucumber, washed well and sliced
1 small red onion, thinly sliced
1 small sweet bell pepper, diced
8 ounces sliced mushrooms
1 small head of broccoli florets, chopped
1/2 c. frozen (thawed) corn kernels (NO salt added!)
1 c. no-salt-added chickpeas, rinsed and drained
1/4 c. unsalted sunflower seeds
1/4 c. seedless raisins
DIRECTIONS
Place ingredients into bowls. Set on counter. Get out tongs. Assemble the salad of your dreams. Dress as desired. Chow down. ENJOY!