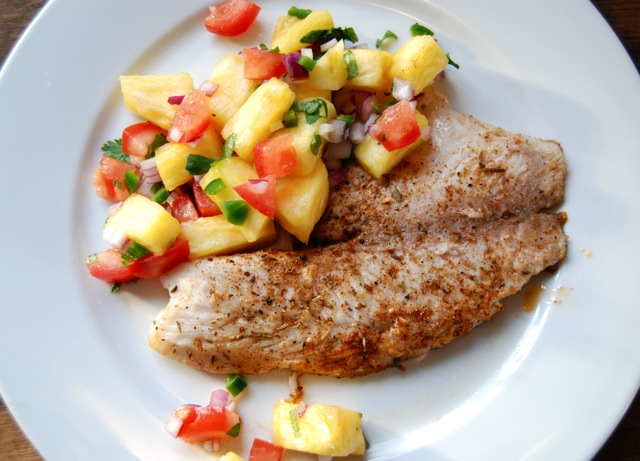 This super simple, low sodium meal got rave reviews from my whole family this past weekend.  Tilapia is a terrific fish; mild in flavor, meaty, and when you buy it on sale like I did – CHEAP!  The recipe calls for Cajun seasoning.  If you don't have any already, I highly recommend Benson's Salt Free Calypso, a blend of 19 herbs and spices that perfectly compliments the pineapple in this recipe (and will transport any other dish to the Caribbean!)  The salsa-like relish was a beautiful partner to the fish — sweet, spicy, and a feast for the eyes & mouth.  If you can't tolerate fire in your food, omit the pepper flakes and substitute an equal amount of bell pepper for the jalapeño.  Recipe adapted from Cooking Light magazine.
Yields 4 servings.
SODIUM CONTENT:  101 mg per serving
INGREDIENTS:
2 1/2 c. chopped fresh pineapple chunks (about 1/2 fresh pineapple, peeled and cored)
1/2 c. diced red onion (about 1/2 sm/med onion)
1/2 c. diced tomato (about 1 small tomato)
2 T. rice vinegar
1 T. chopped fresh cilantro
1 small jalapeño pepper, seeded and chopped
2 t. vegetable oil
1 t. no-salt-added Cajun seasoning (I recommend Benson's Salt Free Calypso)
1/4 t. dried red pepper flakes
4- 6-oz. tilapia fillets (1.5 lbs. total)
DIRECTIONS:
Combine pineapple and next 5 ingredients (through jalapeño) in a large bowl, stirring gently.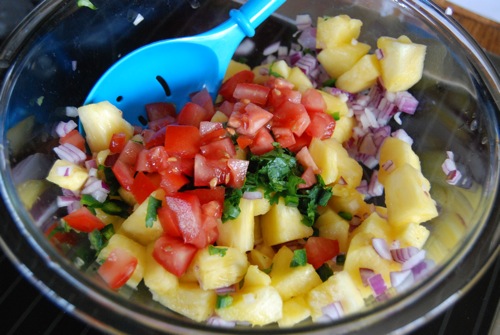 Heat oil in a large nonstick skillet over medium-high heat. Combine Cajun seasoning and red pepper flakes in a small bowl and sprinkle fish evenly with the mixture. Add fish to pan and cook for 2 minutes on each side, or until fish flakes easily when tested with a fork.
Serve immediately, plating each portion of fish with an ample amount of pineapple relish.