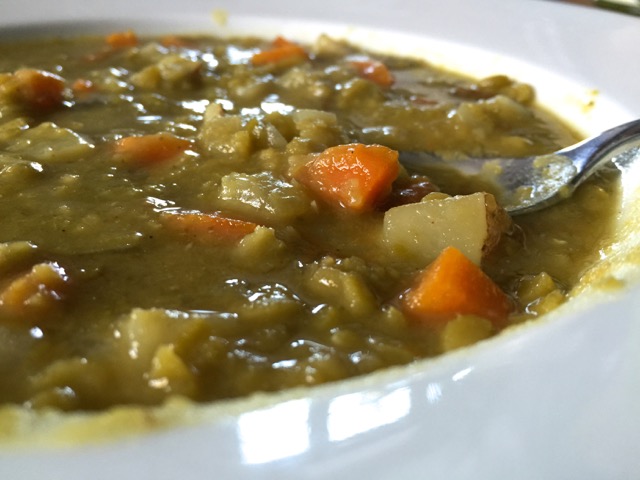 Split pea soup is not sexy.  It's not the Heidi Klum of the low-sodium soup world. But what it lacks in looks, it more than makes up for in taste. So don't be a hater.  Embrace the inner beauty of the soup and go get your crock pot.
Today's soup is made with standard staples, nothing fancy, so it's cheap as well as easy. Unlike dried beans, split peas require no pre-soaking, so as long as you've got a bag on hand, you can assemble this any morning and enjoy dinner later in the day.  Split peas are high in iron and magnesium, low in fat and sodium, and high in fiber and protein.  So this is basically an energy-boosting, metabolism-maintaining, healthy blood-building bowl of goodness.  It's even become my younger daughter's most favorite soup in the world, which, for a kid who gravitates towards bling and beauty, is a real compliment.
PS: I will not apologize for providing the world with another slow cooker recipe.  The only people who have problems with slow cookers are the pitiable souls who've never used one. The rest of us already know. THEY ARE THE BOMB.
Recipe adapted from Robin Robertson's Fresh From the Vegan Slow Cooker.
Yields 8 servings
SODIUM CONTENT: 143 mg per serving
INGREDIENTS
1 medium onion, chopped
2 medium carrots, diced finely
2 medium stalks celery, diced finely
2 medium potatoes (your favorite), diced finely
1 lb. dry green split peas, rinsed (2 1/4 cups)
7 c. low-sodium vegetable broth
1 bay leaf
2 t. all-purpose salt-free seasoning
1 t. ground coriander
1/2 t. ground cumin
freshly ground black pepper, to taste
DIRECTIONS
Place all ingredients into a large slow cooker and stir to combine. Cover, set to high, and cook, stirring occasionally, 7 hours.
Serve hot.